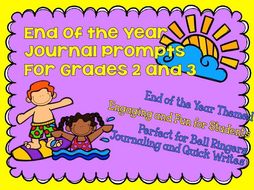 30 End of the Year Journal Prompts for 2nd and 3rd Grade - Bell Ringers, Centers, Journals, More
Use these journal prompts every day for the end of the year! Your students will love writing to these engaging prompts that promote creativity and critical thinking! The prompts help to foster students' descriptive writing skills.

Student Journal Cover Page and 30 Journal Writing Prompts are included.
Read more