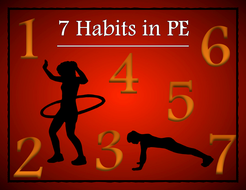 7 Habits in PE- Printable Signs
The 7 Habits in PE printable display signs used for this product were created by Cap'n Pete adapting Steven R Covey's habits and principles from his book entitled "The 7 Habits of Highly Effective People". It was first published in 1989, as a business and self-help book and has sold more than 25 million copies in 38 languages worldwide, and the audio version has sold 1.5 million copies, and remains one of the best-selling nonfiction business books.

As a 7 Habits school (Leader in Me), we strive to apply the principles and concepts of the 7 habits in all areas of the school including physical education. We use these printable display signs at our front door bulletin board and/or in our gym hallway to showcase some of the ideals we expect our students to achieve in physical education class.
Read more
About this resource
Info
Created: Nov 22, 2016
Updated: Feb 22, 2018