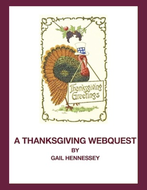 A Thanksgiving Webquest!
Want a fun and informative activity to teach your students about the history of Thanksgiving?This webquest has 11 informative text questions on the history of Thanksgiving(including the Macy's Day Parade). TURKEY facts,too!

Update: 10/22/16: I check my web quests on a regular basis and see that the link to number 5 isn't working so I changed the question a bit and the link. Download the most recent version.
Read more