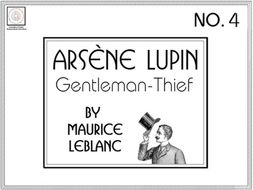 Advanced French Reading Comprehension: Arsène Lupin, Gentleman-Thief, No. 4
This book contains the complete story 'Gants Blancs . . . Guêtres Blanches . . .' by Maurice Leblanc. It is one of many featuring the same protagonist, a gentleman-thief by the name of Arsène Lupin, here disguised as 'Jim Barnett'. He is remarkable for his ability to glean a fortune from wealthy (and usually greedy and unpleasant) people through the clever manipulation of events which are already in motion when he arrives on the scene. His success depends on his intelligence and his prowess as a thief and master of disguise, which allow him to avoid violence or guilt of crime in his adventures. Adding to the fun, he consistently outwits whatever official inspector (here, inspector 'Béchoux') he is supposedly helping.

The story is divided into 15 small sections, each of which is followed by five reading comprehension questions and a blank list for vocabulary (instructions included). The lists are multicoloured for variety.
Read more
Get this resource as part of a bundle and save up to 25%