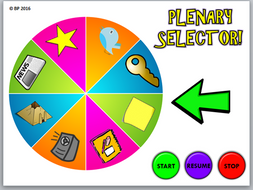 AfL Fun Plenary Selector - Spinning Plenary Wheel - Students shout "STOP" to choose lesson plenary!
NEW! See the video preview of the PowerPoint BEFORE choosing to buy. ALL resources are included and TOP quality. This is an investment and great for new teachers or those that want to increase student engagement.
This is my first Plenary Wheel resource - 8 generic plenaries to end ANY lesson. If you like this, why not try the sequel with 8 additional plenary activities?
Slide 1 includes a spinning wheel that can be stopped by clicking STOP to choose the plenary for the lesson. Includes a selection of eight plenary ideas (and supporting resources) with an engaging interface to grab students' attention at the end of a lesson. Interactive, students LOVE shouting STOP to select the plenary activity!
Suitable for all subject areas… you may never have to plan a plenary activity ever again, although don't tell your senior leaders I said that!
*Copyright* This took ages to make and code, so please don't share it too readily! Enjoy the resource - all text is my own (Barnett Education is me!) - images are public domain and all copyright free.
Read more