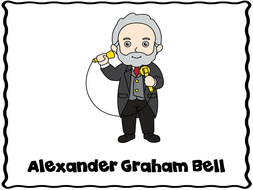 Alexander Graham Bell (Inventor Report Graphic Organizers)
This pack includes a poster of the inventor and pages to help with your inventor report on Alexander Graham Bell.
Included are the following:
Poster
Bubble Map
2 Was, Had, Wanted Charts - (one with lines and one without)
3 choices of fact writing pgs (1 with lines and a place to draw a picture, 1 with no lines and a picture included and one with a small picture and a place to draw a picture and write facts)
A Report page that has a space for name of inventor and invention,
a place to write about what influenced the inventor to make the invention, a box to write about obstacles. a place to write about the impact of the invention on future inventions and a box to draw a picture of the invention.
Read more