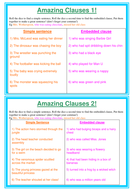 Amazing clauses sentence game - embedded; nouns
A sentence game I've made that gets the children creating their own amazing clause sentences with different subjects and comma usage. It is fully editable so you can change the words and differentiate. Can be used as an extension activity, as a mental starter etc and is great for improving sentence construction and understanding. The children love it! Please also see my other resources for more sentence games including connectives, openers, punctuation and complex sentences
This resource is designed for US teachers. View UK version .
Other resources by this author
A sentence game I've made that gets the children creating their own complex sentences with different sentence starters. It is fully editable so you...
confusedaspie
A sentence game I've made that gets the children creating their own amazing clause sentences with different subjects and comma usage. It is fully e...
confusedaspie
A collection I have developed over time of mental math games and starters for children of all ages split down into areas. You can dip in and out of...
confusedaspie
Popular paid resources
10 fully resourced lessons to prepare students for the AQA English Language Paper 2, Section A exam: 'Writer's Viewpoints and Perspectives'. This r...
RojoResources
Children loved making pizzas at our Italian pizza class. Resources have been exported from an Activ-primary flip-chart. (Which also includes Italia...
jreadshaw
A fully differentiated revision guide for KS4 students to prepare for Language Paper 1 - Explorations in Creative Reading and Writing - of the new ...
Lead_Practitioner
New resources
Poster title for my wall of 'amazing adjectives' for Year 2's to use in their English lessons. Also helps introduce alliteration!
laylala
70 exciting Assessment for Learning activities - make each lesson fun and varied with over 100 different ideas for assessment activities and ways t...
lordturner
Collective Nouns 32 slide editable PowerPoint presentation with 1 worksheet Collective Nouns is made up of a 32 slide PowerPoint with an accompanyi...
Teacher-of-English
Updated resources
All the Fortnite and Squishy resources in 1
simon fox
A bundle of post SATs Squishy projects.
simon fox
2018 Friendly! UPDATED: Modelled on the new Teacher Assessment Framework for the end of KS2 ( published September 2017 - so this is the version for...
sjwalkley