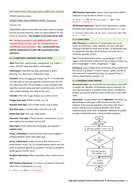 AQA GCSE Computer Science Revision Notes
8 pages literally crammed full of theory covering the syllabus in amazing detail - perfect preparation for the exam. It is written closely to the specification to assist optimal learning. Students will quickly reinforce their learning and have complete confidence. You will be pushed to find anything as concise. Save a fortune on photocopying and revision guides... it's all here.

Please note that this document DOES NOT fully apply to the new syllabus for first teaching from September 2016.

Read more