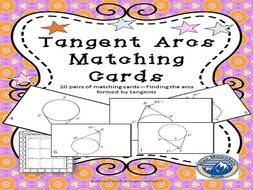 Arcs of Tangents Matching Card Set
Students practice finding the measure of tangent arcs in this matching activity. Half of the 20 pairs of cards have a picture of a circle with tangents . The other half have the measure of the arc .

Cut apart and use for a single student or pair of students. You can use to pair up students for other activities. You can also use these cards as a ticket in the door or ticket out the door. Additional uses for these cards are explained in the directions or download my free resource.
Read more