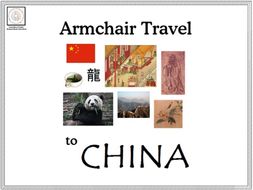 Armchair Travel to China - Card Game
What colour was worn only by the Emperor? How fast is the Shanghai Maglev - the fastest train the world? Who was Confucius? How long ago did the Chinese begin to cultivate rice? What is most popular pet in China? Learn this and much, much more with these 100 question and answer cards! Easily printed in black and white, this simple card game makes an excellent addition to any study of China. Geographical, colloquial, historical, political and cultural facts and figures about the world's fourth largest country are assembled here. Also included are images (colour and black and white) to decorate the backs of your cards, and a label for an envelope in which to store them.

Time to travel (in your armchair) to Zhong Ghuo (China)!
Read more