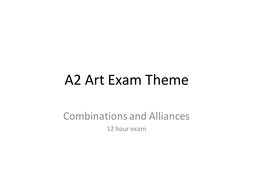 art history lots of different artists
A starting point presentation for students.
Read more
Other resources by this author
This is a blank lesson plan that can be used to plan any subject and to be used as a starting point. Attached is a supporting document that also he...
schmidty707
This is a fun 2 hour lesson that is sure to capture the interest of your students and have them talking about the outcomes they produced outside of...
schmidty707
ART 77 Presents: This small unit of work is a minimum 3 hours of creative fun that inspire, challenge and boost students self confidence in drawin...
schmidty707
Popular paid resources
Sock Monkey Soft Toy - Full lesson by lesson scheme of work & lesson powerpoint key stage 3 project The project transforms recycled socks into ...
merk90
Powerpoint showing several photos of Roman shields that I made leading into an activity where children design their own Roman shield based on certa...
dave_orritt
This is an extended homework piece that can be give out as a multi-homework. I usually set the homework at the beginning of a half term and collect...
theartllama
Updated resources
Let's learn about Music! This worksheet includes 11 pages with a large variety of activities and exercises about music. The materials have informat...
willemmacau
This creative Pointillism Eye project, teaches students about Pointillism, Seurat and optical mixing. It includes everything you need. Ideal for a ...
TheArtyTeacher
Do you find it hard to explain to students what the AQA A level Art Assessment Objectives mean? Do your students find the language of the AOs confu...
StartEducation
Related content