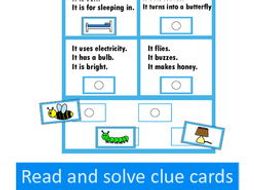 Autism and Special Education Reading Comprehension Clue Cards- US Version
Autism comprehension and vocabulary activity.

This version of the product uses US spellings but a UK version is also available.

This is a set of 15 Clue Card boards- each with 4 different sets of 3 clues, which your student has to read and solve. The first 10 boards have picture answers and the remaining 5 only use words.

For less confident readers an adult could read the clues aloud to the student, or you could take turns reading the clues.

These Clue Cards were originally designed because my my son, who has autism, found it difficult to comprehend verbal descriptions of objects. Initially he guessed separate answers for each of the 3 clues, but gradually he learned to put all 3 clues together to find the correct answer. He now loves word puzzles such as crosswords.

Some of the clues are deliberately more obvious than others to ensure your students feel some success.

I suggest laminating the boards for durability, and using velcro dots to secure the answers.

You might also like:
Reading Comprehension Animal Clue Cards
Fluency Facts Reading Bundle
Reading Skills Clip Cards Bundle
Reading Nouns Clip Cards

All the graphics used in our resources have been designed to appeal to a wide age range, as we know how difficult it can be to find suitable resources for teens.



About this resource
Info
Created: Jun 4, 2016
Updated: Feb 22, 2018
Other resources by this author
Writing Sentences with Verbs worksheets for pupils with autism and special education needs. Spinner Sentences Set 5- Verbs 10 No Prep pages which a...
CurriculumForAutism
Distance, Speed, Time task cards for pupils with Autism and Special Education This set contains: - 50 question cards - answer key - distance, speed...
CurriculumForAutism
Adverbs Cut & Paste worksheets for pupils with autism and special education needs. 10 No Prep worksheets: Adverb or Adjective Sort - 5 pages Co...
CurriculumForAutism
Popular paid resources
You are purchasing a 20 page booklet with a range of short practice questions. There are examples of every single question on both papers, with fou...
laurajholder
Intended to be printed and laminated for a wall display on literary devices. Uses examples from a lot of modern films (lots of Harry Potter!) to ma...
ameliapeelia
30 pages of phonics activities perfect for practising alien words from phase 2-5 for the Phonics screening check.
littlemisstechnical
Updated resources
In this lesson we explore Romeo's use of language as he meets Juliet for the first time and how she responds to his use of religious imagery. Using...
Lead_Practitioner
Ideal for both KS3 and KS4 students, this fully resourced and differentiated lessons looks at the way Dickens presents Scrooge as an outsider and s...
Lead_Practitioner
A Lesson Presentation that presents Teaching Resources on Brochure Writing. This presentation presents ready to use resources that will help you to...
john421969