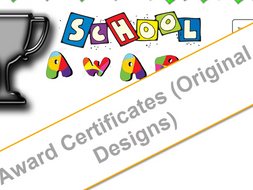 Award Certificates Early Learning (8 different) One table for Mail Merge
Award Certificates FULLY editable in Word ready for Mail Merge (Table Provided)
Instructions for a mail merge here:
http://www.wikihow.com/Mail-Merge-in-Microsoft-Word
(you only have 2 fields, it is a certificate not a letter, but works on same principle)
--Insert fields for 'to' and 'for'
--Include Maths, Attendance, Emoji, ICT and other designs
--Room for 'Change Picture' for your school Logo.
--Design layout is original, with School Award in all certificates but different icons and pictures.
--Date is updated automatically when you print or merge.
Read more