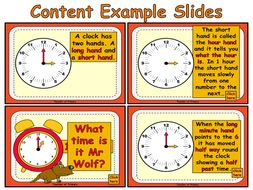 Beginning to Tell the Time - animated PowerPoint teaching resource and worksheet
Beginning to Tell the Time

KS1 Maths Teaching Resources – Beginning to Tell the Time.

In this year 1 teaching resource pupils are introduced to telling the time to the hour and half past the hour as per the statutory requirements of the year 1 maths programme of study (Measurement).

This colourful and animated 50 slide PowerPoint presentation includes interactive activities, link to an introductory video, an accompanying worksheet, making your own clock template and a clock template which can be laminated to use with dry wipe pens.
Read more