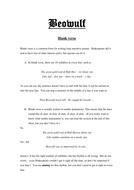 Beowulf Blank Verse Handout
<p>Create your own blank verse from Beowulf prose.</p>
Other resources by this author
An introduction to Myths and Legends and Mythical Monsters. Text studied; Robert Nye's Beowulf
llucambe
<p>Power Point Lesson Plan regading Mythical Heroes, using the book Beowulf by Robert Nye</p>
llucambe
<p>Create your own blank verse from Beowulf prose.</p>
llucambe
Popular paid resources
30 pages of phonics activities perfect for practising alien words from phase 2-5 for the Phonics screening check.
littlemisstechnical
Intended to be printed and laminated for a wall display on literary devices. Uses examples from a lot of modern films (lots of Harry Potter!) to ma...
ameliapeelia
10 fully resourced lessons to prepare students for the AQA English Language Paper 2, Section A exam: 'Writer's Viewpoints and Perspectives'. This r...
RojoResources
New resources
This engaging and informative lesson enables students to make detailed and precise interpretations of the character of Abel Magwitch in Great Expec...
TandLGuru
Resources to facilitate teaching on Robert Burns. Includes a PowerPoint to introduce Burns and describe his life and work. Also includes a lesson p...
Jemmab100
Updated resources
An IGCSE mock exam for the 2017 onwards English exam (paper 2) Uses two sources about London smog.
Aimsnapfall
Students explore standard RL.4.3 with this playlist. They will learn how to understand how the characters, setting, and events in a story can help ...
Wisewire
This four page document is fully colour-coded, easy to use and contains: Key quotations Linked themes Placement A short explanation. Can be used as...
ebonieoliver