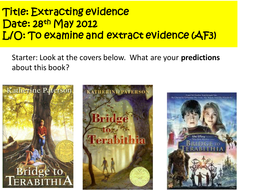 Bridge to Terabithia
A PowerPoint going through the first few chapters of 'Bridge to Terabithia'. Some quotation exercises which help students analyze at a in depth level. Aligned with Common Core Standard: RL.6.1
Other resources by this author
Used for an observation; adapted from a resource given to me by another teacher.
gradteacher
This PowerPoint was prepared to use before reading the novel. It has information about the author and some images to help students visualize the ti...
gradteacher
I have occasionally used this lesson at the end of a quarter to have students practice words and usage. This lesson prompts students to look words ...
gradteacher
Popular paid resources
This is a hugely popular revision tool for the Y6 Reading SATS test! Get ready for the 2018 KS2 reading assessments with this SATS Question Generat...
KS2History
This 16-page resource booklet contains a wide range of challenging and engaging comprehension activities for use throughout the reading of Thomas H...
TandLGuru
These two poetry frame sheets have lively, idea-triggering illustrations, and are designed to be fun and accessible to use. Both invite creative in...
katewilliams_poetry
New resources
A simple work sheet getting students to engage with the poem in an analytical manner. Ideal as cover work or revision
lizziedc92
Editable and changeable P.E.E. table format, with space for students to plan different points they want to make in their analytical writing.
aliceboyd1995
Created by a team of excellent teachers and designers, these are specially designed resources related to three of Lovecraft's timeless works: The W...
natasha717
Updated resources
Piecing Me Together is a complete 81 page novel study guide based on the popular novel by Renée Watson. The guide is presented chapter-by-chapter a...
reednovelstudies
This bundle contains 6 writing activities, 6 SPAG activities and 6 Spelling activities. The writing activities cover a range of genre. Developing k...
jorgill
This dramatically illustrated writing sheet invites onomatopoeias (or 'sound words') and nose-linked verbs. Suggestions for these are listed on the...
katewilliams_poetry