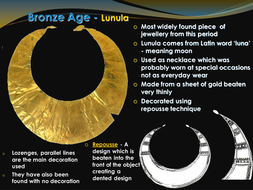 Bronze Age
PowerPoint introducing examples of art from the Bronze Age.
This resource is designed for US teachers. View UK version .
Categories & Grades
Other resources by this author
Irish metal and stone work during the La Téne period
gerconran
PowerPoint introducing examples of art from the Bronze Age.
gerconran
Popular paid resources
Sock Monkey Soft Toy - Full lesson by lesson scheme of work & lesson powerpoint key stage 3 project The project transforms recycled socks into ...
merk90
Powerpoint showing several photos of Roman shields that I made leading into an activity where children design their own Roman shield based on certa...
dave_orritt
The Russia Football World cup is nearly here. Engage students with the FIFA Russia World Cup with these 5 colouring sheets. Students can decide whi...
StartEducation
Updated resources
A Complete ART lesson, which includes a detailed PPT, resources and models. The lesson covers design and shape, children explore how to create zent...
Raphella
Nursery Rhymes Clipart Bundle - Commercial Use. WELCOME to this STUNNING collection of Nursery Rhymes Clipart images. This bundle contains 46 high-...
Little_Tots_Learning
Kandinsky quotes, on his abstract painting art: color line, composition and on his artistic life: Blaue Reiter and Bauhaus for pupils, students and...
Matrozenhof