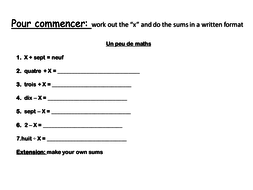 Brothers & sisters
ppt on brothers & sisters plus the negative form of "j'ai" "je n'ai pas de". activities included.
About this resource
Info
Created: Apr 5, 2011
Updated: Aug 19, 2015
This resource is designed for US teachers. View UK version .
Other resources by this author
I would say that the texts used in the ppt are meant for top set year 11 in order to challenge and stretch the more able students. Vocabulary, comp...
nadia35
A complete lesson on both healthy living and introduction to the imperative tense. From starter which will get the students hooked to activities an...
nadia35
In this simplified document you will have a clear idea of the topics, content of each skill and the marks awarded to each of the 4 skills. Please l...
nadia35
Popular paid resources
PowerPoint and accompanying workpack designed to encourage pupils to use a variety of complex structures in their spoken and written French. An ext...
maryjane1969
This is a lesson I produced for my Lower Sixth to introduce the subjunctive. There is a worksheet to accompany the presentation with a fairly compr...
maryjane1969
Print out the cards and laminate them. Pupils work in pairs or small groups and race against each other to form the perfect tense with the cards af...
maryjane1969
New resources
Quiz sur Noel : multiple choice exercise on the topic of Christmas
Zoe2007
Powerpoint slides and worksheets introducing and practising language to discuss helping marginalised people in society. There are links to five rel...
lucyday73
Quick printable to cut out, laminate and label: Rooms in a primary school Items in a classroom Raise the profile of French in your school by making...
naomifrench
Updated resources
Objectif: To work out the meaning of unpredictable language and to use three time frames (grade 5).
marylinedotk
Listening activity using the song "Les vacances au bord de la mer" the imperfect tense
marylinedotk
Vocab to talk about Valentine's Day French Year 9
marylinedotk