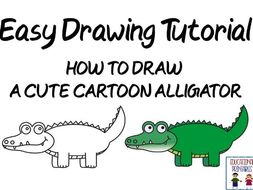 Cartoon Alligator - Easy Drawing with Simple Shapes - Video Tutorial
In this easy drawing video tutorial, you will learn how to draw a cute cartoon alligator step by step starting with simple shapes.
With this video tutorial, you will also get supporting worksheets including the easy drawing steps in PDF as well as coloring and tracing pages.
For this video tutorial, you need the following supplies:
a sheet of paper
pencil
pen
markers
colored pencils
eraser
This video tutorial is intended for students from Kindergarten on.
Find free and premium educational printables at
Read more