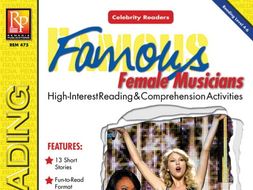 Celebrity Readers: Female Musicians
Read about contemporary celebrities. Since most people enjoy reading about celebrities, even reluctant readers will be eager to take on these interesting one-page articles. A photo accompanies each bio to assist with visual recognition.


Learning activities follow each reading to test comprehension, enrich vocabulary, and enhance following-directions skills. Relevant questions, word/definition matching, crossword puzzles, and fill-in-the-blanks are among the activities featured. Finally, there is a related research project for each story.

Read more