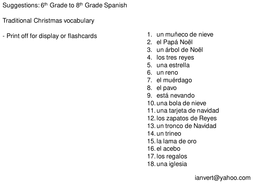 Christmas visuals - Spanish
To support the mystery pictionary exercise. Can be run as a power point or printed off and used as flashcards to introduce the vocabulary.
About this resource
Info
Created: Dec 9, 2011
Updated: Aug 19, 2015
This resource is designed for US teachers. View UK version .
Other resources by this author
Powerpoint activity testing simple math in lower numbers. 3rd of 3 similar activities.
ianvert
Some common and less familiar vocabulary relating to parts of the body and the face. Begin the puzzle by finding where POITRINE goes as it's the on...
ianvert
Students try to write the christmas related vocab before it appears. The picture is gradually revealed. eg use if class have already done some xmas...
ianvert
Popular paid resources
This resource contains 18 pages full of information (facts and statistics) covering all aspects of the themes covered in year 1 of the new Spanish ...
corcuera
This 2-page file includes: ~A biography about Rigoberta Menchú, the Guatemalan indigenous woman from a poor background who went on to world fame as...
ninatutor
Bundle includes 10 biographies in Spanish on famous hipanic women at 50% off! Queen Isabel I -Spanish Queen Shakira -Colombian singer Celia Cruz -C...
ninatutor
New resources
Get your pupils to experience the Spanish festive season in a fifty-minute lesson! A sequence of activities and games. You will need to print off a...
boatie
Updated resources
This fun reading is between between two school friends discussing a typical week at school. They discuss exams, studying, friends, siblings and goi...
ninatutor
A two page worksheet on -car, -gar, and -zar spelling change verbs in the preterit. Section 1: Complete the verb conjugation chart with the 15 infi...
sairama
This powerpoint and accompanying worksheets cover the topic of films. Pupils will learn how to give opinions of films and describe them using adjec...
wrightcv