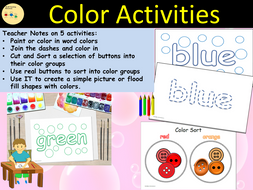 Colors Activities/Tasks and Sorting into Color Groups, Cut/Paste - PreK/Kindergarten
This product relates to activities based on color recognition and grouping colors that are the same.
Aimed at: PreK/K and SEN groups.
Ideal to use in a carousel system - each table has a dedicated activity and the children can move round once they have had a go at an activity.
<strong>Content:</strong>
Teachers Notes on activities
Resources for suggested activities
Clipart buttons in a variety of colors
The eleven colors used are: red, brown, blue, orange, black, green, gray/grey, yellow, white, purple and pink.
<strong>• Activity 1</strong> – You can direct the children to use any color media to fill in the color words and the bubbles – paint, crayons, felt tips, pencils.
<strong>• Activity 2</strong> – Children join up the dashes and then color in. They can draw things that are usually that color, e.g. red strawberries, gray pencil, blue sky, yellow sun and so on. First elicit from the children the things that see that are usually that color. Some may say green grass. Also accept things they see in two colors such as black and white cat etc.
<strong>• Activity 3</strong> – Use IT Paint Palette on computer to create a colorful picture or simply a rainbow. Extension: Ask the more able to list the colors they have used.
</strong>• Activity 4 – Color sort.</strong> Children sort the buttons by color and glue them in the correct circles. I have included a variety of clipart buttons. You can mix a selection of buttons up for the children to sort.
<strong>• Activity 5: Hands-on activity:</strong> Alternatively, put out a selection of real buttons for children sort into color groups onto the circles and they can say how they have grouped the buttons.
I hope the little ones enjoy these activities.
<strong>UK Version</strong>
https://www.tes.com/teaching-resource/colour-activities-paint-colour-words-trace-over-colour-sort-cut-paste-it-link-11881979?theme=1
You may be intersted in Class Visuals relating to colors:
https://www.tes.com/teaching-resource/room-visuals-colors-for-display-what-colors-are-when-mixed-flashcards-colors-activity-worksheets-11341707
Thank you for visiting my store:-)
About this resource
Info
Created: Apr 16, 2018
Updated: Apr 19, 2018
By adding a School licence it allows you to share this resource with colleagues at your school. Without it, this resource is licensed for use only by you. Read licence details