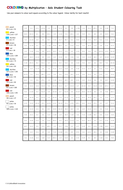 Colouring by Multiplication - Classic Mario (Products up to 144)
This is a solo student colouring mosaic (as opposed to a collaborative math mosaic). Students will gain familiarity with plenty of single digit multiplication products, some 2-digit x 1-digit (and sometimes a 1 x big number randomly).

This task gives some great motivation to work through a bunch of multiplication facts, since the picture only takes shape when all the squares are correctly coloured.
Read more