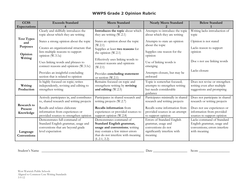 Common Core Writing Rubrics: Grade 2
This rubric is aligned to the CCSS for grade 2. Aligned to Common Core State Standards: W.2.1, W.2.2, W.2.3
About this resource
Info
Created: Jul 28, 2015
Updated: Aug 19, 2015
Categories & Grades
Other resources by this author
This rubric is aligned to the CCSS for speaking and listening.<br />CCSS alignment: SL.5.1, SL.5.2, SL.5.3, SL.5.4, SL.5.5, SL.5.6
pdalfonso
This oral presentation rubric is aligned to the CCSS.<br />CCSS alignment: SL.K.1, SL.K.1, SL.K.2, SL.K.3, SL.K.4, SL.K.5, SL.K.6<br/>A...
pdalfonso
This rubric is aligned to the CCSS.<br />Common Core Alignment: SL.3.1, SL.3.2, SL.3.3, SL.3.4, SL.3.5, SL.3.6
pdalfonso
Popular paid resources
These 'Library Challenge' cards were made for my class library, but they could be used in a school library as well. The idea was just to get the ch...
sh2810
A complete 12 week scheme of work that is fully resourced and differentiated. Contains powerpoint lessons, medium term plan, text extracts and samp...
stebbingk05
This is a hugely popular revision tool for the Y6 Reading SATS test! Get ready for the 2018 KS2 reading assessments with this SATS Question Generat...
KS2History
New resources
Today, we are going to talk about artificial intelligence. It is supposedly the future. Artificial intelligence, or AI, is intelligence displayed b...
NewsFlashEnglish
A detailed Revision Powerpoint on the whole play. Please also see my range of Richard II bundles and resources. Save money with Big Cat Bundles ! P...
tallybarnett
The plague is a disease that killed millions of people across Europe during the Middle Ages. It became known as the Black Death. It appears the kil...
NewsFlashEnglish
Updated resources
This lesson begins with a team quotation quiz to recap on chapters 9 - 17. (1 - 8 were on lesson 14). Answers are included, of course. The lesson h...
Best_Newcomer_2009
Scheme of work for year 10s or 11s preparing for the AQA GCSE Literature Paper 1.
sarahmeredith
This is the 20th lesson in the scheme of work, focusing on a guided reading of chapter 17. The starter is a paired activity on colonialisation and ...
Best_Newcomer_2009