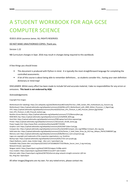 Complete AQA GCSE Computer Science Workbook Activities v1.22
THIS IS FOR THE CURRICULUM THAT ENDED IN 2016...still some useful content.

Save hours of preparation with this complete tailor-made workbook, covering all of the course and exemplar coursework.
Understanding the needs of teachers who might, or might not be familiar with the course, this resource has everything you need.
Over 100 pages including: worksheets covering every theory topic, practical exercises, includes links to relevant videos.
Examination style questions and answers.
How to write the controlled assessment coursework and get a good grade!
Exemplar coursework (not live),
This has been tried and tested with students and teachers with differing abilities in different schools. I know that school budgets can be tight, which is why this is value for money. Save hours of time with this resource. The price is for a SINGLE SITE licence. Your feedback is welcome.
About this resource
Info
Created: Jul 29, 2015
Updated: Feb 22, 2018
Other resources by this author
This is a funny script taking around 10 minutes to perform. It is essentially about a knight plucking up the bravery to ask out the princess. It ha...
clickschool
https://www.clickschool.co.uk/seatplan **LATEST**: Online seating plan generator - paste lists from SIMS or similar, group/distribute students, sho...
clickschool
The idea is that students complete them on the computer, then upload to their eportfolio/VLE. The worksheets can be modified to suit your requireme...
clickschool
Popular paid resources
When these booklets are printed you have 8 theory lessons primarily based on the BBC Bitesize website. Follow the bitesize online pages and activit...
anthellison
Lesson: Merge sort, (lesson plan & x 6 resources) (GCSE Computer Science) • To understand and explain how a merge sort works An easy to follow ...
Teacher_aesg
Includes the following x1 hour lessons: linear search binary search bubble sort merge sort Format of the lessons: Starter activities Presentations ...
Teacher_aesg
Updated resources
This is a fun active lesson for GCSE Computer Science pupils that uses a version of an "Escape Room" game. The pupils work in teams to complete a n...
nwilkin
This game helps students relate X & Y axes to the real world. It should be used with my Drawing with Scratch Advanced-ish download to get stude...
jkemm
Use this worksheet in lesson or set it for homework, plan what your sprites will look like in Scratch, how they will move and how they interact wit...
jkemm