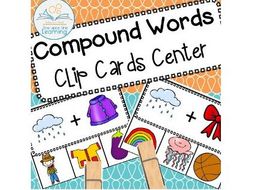 Compound Words Clip Cards
Help students understand compound words with a hands-on compound word "addition" center. No reading is required as the students put two words together to make a compound word. Students say the names of the two pictures and clip the correct compound word picture on the bottom of each card. 28 different compound words cards are included.

Teachers may want to put a dot on the back of the cards with the correct answer so students and flip it over to self-correct.
Read more