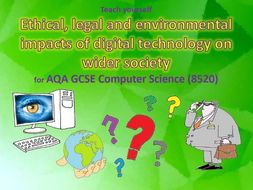 Computer Science: Ethical, legal and environmental impacts AQA (9-1) GCSE revision and exam practice
Great for AQA (9-1) GCSE Computer Science revision and exam practice.
This revision workbook covers the AQA GCSE Computer Science (8520) specification section 3.7 "Ethical, legal and environmental impacts of digital technology on wider society, including issues of privacy". Includes a 52-page PDF document including theory, tasks and includes all the answers. It also includes a section giving students techniques for how to tackle long answer exam questions included a sample question they can mark, tips on improving the answer and a practice question they can try themselves.
Ideal as a GCSE revision aid or as a teaching resource and covers several laws that govern the use of computers along with explaining the difference between hackers v crackers. It discusses privacy issues such as using wireless networking, cloud storage and cloud computing, wearable technology and computer-based implants. It shows pupils how to ask ethical questions and looks at the environment impacts in the manufacture, transportation, use and disposal phases of technology .
Table of contents:
The Copyright, Designs and Patents Act 1988
The copyright of algorithms
The Computer Misuse Act 1990
The Data Protection Act 1998
The Health and Safety at Work etc Act 1974
The Freedom of Information Act 2000
Human Rights Act 1998
Hackers v crackers
Wireless networking
Cloud storage and cloud computing
Asking ethical questions
Data privacy
Wearable technology
Computer based implants
Healthcare apps
Review culture
Environmental impact of technology
Energy efficient computers
Flexible working
Answering long exam questions
Other workbooks in this series:
* Fundamentals of Algorithms GCSE revision student workbook
About this resource
Info
Created: Apr 11, 2018
Updated: Apr 18, 2018
By adding a School licence it allows you to share this resource with colleagues at your school. Without it, this resource is licensed for use only by you. Read licence details
Get this resource as part of a bundle and save up to 40%