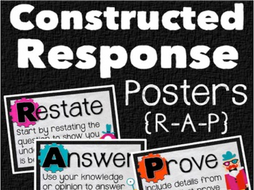 Constructed Response Posters RAP for Written Responses
This is a set of 3 posters to help your students write a constructed response after reading text. The acronym RAP will remind them to restate the question, answer using their knowledge or opinion, and prove their answer with evidence from the text.

Each poster measures 8x10 but they can be enlarged by scaling to a larger size when printing.
Read more