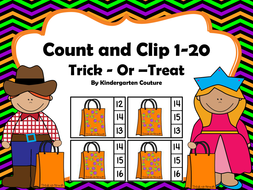 Count And Clip 1-20 Trick Or Treat (Matching Worksheets Included)
Do you remember when you got home from Trick-Or-Treat and couldn't wait to count your candy? Students will have fun practicing their one-one counting using these Trick-or-Treat Count And Clip Cards And Worksheets. Students count the candy in the Trick-or-Treat bag on each card and clip the correct answer with a clothespin. If you don't have clothes pins you can have students use dry erase markers to circle the answer. Just print, laminate and cut out the cards. Write the answer on the back or place the answer on a sticker on the back to make this center self checking.
There are 20 cards from 1-20. Two cut and paste worksheets are included.
Read more
About this resource
Info
Created: Sep 7, 2016
Updated: Feb 22, 2018