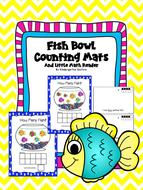 Counting Mats 1-10- Fish Theme and Emergent Reader counting booklet
Here are some cute fishy ten frame counting mats. Students count the fish in the bowl and represent the number on the ten frame and write the number in the box. They can use play dough, fishy crackers, small erasers, counters, dry erase markers to represent the number. I have also provided fish counters for you to print if you need them. Included is a related Math Emergent Reader. The reader is 7 pages including the cover page. Students read the sentence and draw "how many" on each page. There is a number and ten frame on each page to help with the underlined number word. Number words go to five in this booklet. On the last page students answer the question by counting one-one. I hope your class will love using these counting mats.
By changing graphics in a center students are getting repetitiveness but think it is a brand new center.
Read more