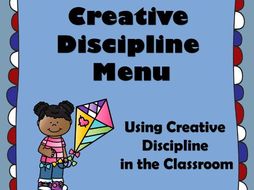 Creative Discipline Menu
I came up with this creative discipline menu so that when it is time to give out a consequence your not thinking on your feet. This is easy to grab, fill out, an hand it to the child all while you are still teaching. You can also give the students a choice between 2 consequences. I love the idea of students having choices and taking ownership of their choices. With this menu the student gets to make the choice out of several or the teacher can give them 2 choices off the menu. The choices change as the child has more offenses.

It has been highly effective in my own classroom. The kids do not like it at all. The sheets are easy to either store for conferences or can be sent home for parent notification.
Read more