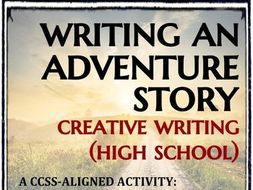 Creative Writing - Adventure Story (Use Sensory Language to Establish Setting)
This Common Core aligned resource helps high school students apply sensory language and use active verbs to establish setting and convey action in a creative writing context. Students must also characterize a protagonist through the incorporation of meaningful dialogue, whether internal or among characters. A visually pleasing pre-writing outline is included to facilitate students' brainstorming processes. A detailed, but flexible rubric for evaluation is also included.

Feel free to click 'preview' under the thumbnail to see the writing prompt, directions, and outline/story organizer.
Read more