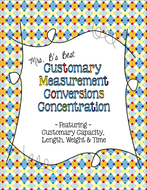 Customary Measurement Conversions Concentration Match-Up Cards
This product allows students to practice making customary measurement conversions. The cards can be used as flashcards or to play the classic game of "Concentration". Students can practice the conversions by one measurement type at a time (capacity, length, weight and time) or combine a few or all for more of a challenge.

This set includes 16 capacity match-ups, 16 length match-ups, 16 time match-ups and 12 weight match-ups. Also included is a card cover page and answer keys.
Read more
About this resource
Info
Created: Aug 30, 2015
Updated: Feb 22, 2018