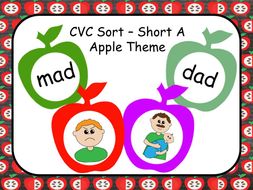 CVC and Rhyming with Short Vowel A - Apple Theme
Two centers in one!! Students will match CVC pictures with words and/or match rhyming pictures. Student directions are included for both centers. Answer keys are also included.

You will need to print out the center pieces. I suggest this center be laminated for long term use. Cut out and store the center pieces in a manila envelope or a Zip Lock baggie.
Read more