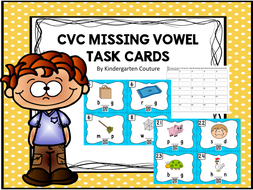 CVC Missing Vowel Task Cards (QR Code Ready)
There are 25 task cards and a recording sheet.
All of the cards have a picture and the written word with a missing vowel in the middle position. Students use the picture and word clues to determine the missing letter, then they write the word on their recording sheet next the the number that is on the task card or they can write directly on the card. Once students have written their answers, they can self-check using the QR codes at the bottom of their cards if you have the technology to do so. (Since the cards are numbered they can also be used as scoot or roam the room activity.
Read more
About this resource
Info
Created: Nov 12, 2016
Updated: Feb 22, 2018