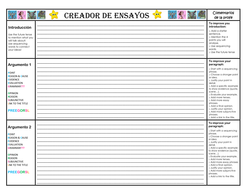 El laberinto del Fauno - Essay titles Booklet and A3 Essay draft planner
This booklet includes the AQA mark scheme, a quotes exercise, 11 essay exercises that come with bullet points and 8 essay titles without a bullet point.

I added as well for my students essay phrases so that they can have it all in one place.

The A3 planner is basically a sheet that we use when writing an essay in class or that students can use at home to structure their essays a bit more.
I added some teacher feedback points that I normally highlight so that students see what they have to amend, change or add. I had the feeling that I was always writing the same things regarding the stucture and this teacher feedback box makes the marking a bit quicklier.
Regarding the accuracy and errors I tend to use a blue highlighter for the errors that I think that they can correct themselves. Then, next lesson, they have to show me their corrections. If the structure is not quite what they need, I tend to ask them to staple a cue card and write down one of the paragraphs again following the feedback I give them.
Read more