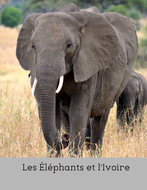 Elephants in Danger - a reading for intermediate/advanced French learners
Elephants are an intelligent and useful species. Unfortunately, they are being hunted to extinction for their tusks. Learn about how the ivory trade is affecting the ecosystem and the history of the trade.

This 2-page reading for intermediate and advanced French learners tells the story of this organization. Includes 2-page question worksheet in both French and English plus answer key and related resources sheet.
Read more