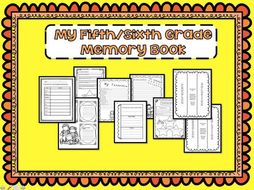 End of the Year Memory Book for Grades 5 and 6 - Interactive Notebook
This is a "print and go" Memory Book for grades 5 and 6.! This book is perfect for the end of the year days when books are being turned in and students are working to complete different assignments. Using these pages as an interactive notebook will reinforce standards and are perfect for early finishers, stand along assignments and to provide engaging work for students - not to mention the fun they'll have sharing with family and friends.

This pack includes 36 memory book pages -- by allowing students to mix and match in anyway they like -- each book is easily personalized.
Read more