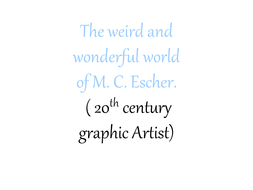 ESCHER PROJECT FILES
A PowerPpoint with many examples of Escher's work.
Read more
About this resource
Info
Created: Jul 21, 2011
Updated: Aug 19, 2015
This resource is designed for US teachers. View UK version .
Other resources by this author
Can be used in teams , as a competition. There is an answer sheet included possibly for display. I have tried to edit it since finishing it in case...
bubblegum55
An A4 page of images of food groups to either laminate or put in a polypocket for prompting food groups when using the EATWELL PLATE. The second on...
bubblegum55
PATTERN CUTTING, LAY PLANNING; MAKING BIAS BINDING; MEASURING. This was prepared for a group without a specialist teacher. iIt is intended to suppo...
bubblegum55
Popular paid resources
Sock Monkey Soft Toy - Full lesson by lesson scheme of work & lesson powerpoint key stage 3 project The project transforms recycled socks into ...
merk90
Powerpoint showing several photos of Roman shields that I made leading into an activity where children design their own Roman shield based on certa...
dave_orritt
A collection of STEM themed practical based challenges that can be used in STEM/Science clubs or for fun science lessons. Each activity includes a ...
marissa03
Updated resources
Andy Warhol quotes: the American Pop-artist, on his painting and print art & artistic life in Pop Art - free art-resource for pupils, students,...
Matrozenhof
Mark Rothko quotes - on his abstract painting and artistic life in American art - free art-resource for pupils, students, teachers In his artist-qu...
Matrozenhof
Suprematism and its artists, the Russian art-movement - described & explained in short art-quotes + images - free art-resource for pupils, stud...
Matrozenhof