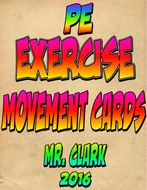 Exercise Movement Cards
This product consists of 16 engaging/colorful Exercise Movement Cards that will be sure to get your students moving in the right direction towards health and fitness!

They can be used as Warm-ups, Stations, or in Partner and Small group settings. Combine them with some dice or playing cards and now you have some Brain PE!
Read more