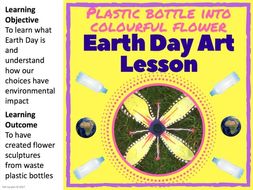 Flowers from plastic bottles: Earth Day art lesson
A one-off lesson with full powerpoint and instructions for creating fantastic bottle flowers from waste plastic bottles. The lesson is designed with limited materials (scissors, POSCA marker pens and waste plastic bottles which the students bring in) so that it is not necessary to be in a specialist classroom.

Full context to Earth Day and the environmental background to reducing plastic waste is included in the lesson, with a quick quiz and link to a video.

A template for designing is included as well as 2 slides of source material to inspire students. In addition there is an extension task for any early-finishers and a differentiated version of the written plenary.

A great lesson which students really enjoy, with an important message. A bonus is that the resulting 'bottle blooms' make a brilliant display!
About this resource
Info
Created: Mar 8, 2017
Updated: Feb 13, 2018
Get this resource as part of a bundle and save up to 48%
Other resources by this author
A fun art 'formal elements' word search PDF file with 17 key terms to find including colour line shape tone form texture space design balance contr...
amimamim
A great resource to support student in becoming more independent and taking responsibility for their projects. 23 pages which can be photocopied in...
amimamim
A two page PDF resource (can be photocopied back to back and laminated for repeated use) on the artist Gustav Klimt. Can be used as a sub lesson du...
amimamim
Popular paid resources
Sock Monkey Soft Toy - Full lesson by lesson scheme of work & lesson powerpoint key stage 3 project The project transforms recycled socks into ...
merk90
Powerpoint showing several photos of Roman shields that I made leading into an activity where children design their own Roman shield based on certa...
dave_orritt
The Russia Football World cup is nearly here. Engage students with the FIFA Russia World Cup with these 5 colouring sheets. Students can decide whi...
StartEducation
Updated resources
Kandinsky quotes, on his abstract painting art: color, line, composition and on his artistic life in Blaue Reiter and Bauhaus for pupils, students ...
Matrozenhof
A Complete ART lesson, which includes a detailed PPT, resources and models. The lesson covers design and shape, children explore how to create zent...
Raphella
Unicorn collage sheets. 1 x 1 inch, 1.2 x 1.2 inch, 1.5 x 1.5 inch (25, 30, 38 mm) sized images on three separate sheets. The size of each sheet is...
educatingmom