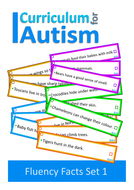 Fluency Facts Bundle, Reading Practice, Autism
Fluency facts bundle containing:
Fluency Facts- Reptiles
Fluency Facts- Ocean Creatures
Fluency Facts- Birds
Fluency Facts- Mammals
Fluency Facts- Big Cats

As the Reptiles set is available with both UK and US spellings, both are included in the zip file

This bundle contains 150 facts for pupils who prefer reading facts to fiction.
Preparation: Simply print, laminate and cut into strips. Then punch a hole in each strip and place them (in groups of 6) on a ring.

There is a green starter dot as the beginning of each sentence, as a visual prompt to remind pupils where to start. If your pupils wish they can tick, color or draw a smilie face in he box at the end of each sentence, after they read it, as a reinforcer.

Please note :these fluency facts are not for beginner readers

**You can earn TpT credit points to use against future purchases of any TpT products by leaving feedback for your purchase.

As some people with autism can be overloaded by too much visual input, my resources have been designed with clear layout and plain backgrounds.
Read more