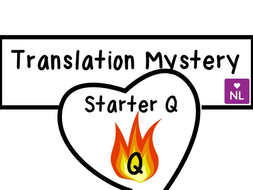 FREE Translation Starter (Quick Fire Questions)
This resource can be used as a starter to accompany our Translation Mystery resource available in store. This starter is aimed at introducing translations through 10 quick fire questions on describing translations. Pupils can answer on mini whiteboards; use discussion to introduce and model that the movement left/right should be given first, followed by the move up/down.
Other resources by this author
This resource includes three differentiated worksheets; Green-Harder Amber-Middle ground Yellow-easier Pupils complete the worksheet at their level...
NumberLoving
UPDATED!! New extra content This resource has been updated March 18 and now includes six worksheets covering a range of questions on topics which c...
NumberLoving
UPDATED MARCH 18 Previous buyers please get in touch (contact below) if you have an trouble re-downloading! This resource has been updated and now ...
NumberLoving
Popular paid resources
A self-contained game to be played in pairs. Use to revise reading coordinates on a grid. Best played once coordinates have already been introduced...
Miss-Becky
There are about 17 (practical and fun) lesson activities, tasks or worksheets to cover the following 2014 objectives: Recognise angles as a propert...
jreadshaw
Differentiated worksheets for children to complete. Each worksheet contains photographs of shapes that the children must construct then answer ques...
juliannebritton
New resources
GCSE Mathematics 9-1 Higher tier. Includes SMART Notebook lesson and two accompanying worksheets with answers. Lesson outcomes covered: 1. To be ab...
Bluesky62
Inspired by aap03102 and his excellent relays https://www.tes.com/teaching-resource/maths-relay-races-problem-solving-puzzles-6064073 I created thi...
whistleandsums
Here is another set of transformation pictures that will create a lovely Christmas scene. There is a reindeer and Christmas tree which only require...
dave789
Updated resources
There are eight different bingo cards in this resource. I do not call out the affixes (prefixes and suffixes), I elicit the name of the affix throu...
lexicologyforreading
'Search for the Surface' is a 'choose your own adventure' maths game in which players are stranded in a maze-like underground structure of rooms an...
jetc
This workbook has detailed solutions and is great for learning about transformations. The different transformations are covered one at a time and t...
Maths4Everyone