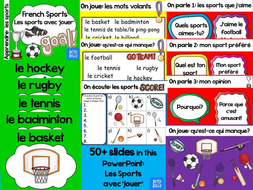 French Presentation and Games: Sports
Introduction of new vocabulary with beautiful images and font.
Practice of new vocabulary including 'Qu'est-ce que c'est' game; 'flying words' game; 'qu'est-ce qui manque' game. Listening Grid
Speaking slides- Q&A, models provided.
Noughts and crosses game.

This resource co-ordinates with my opther sports resources, all available in my Betsy Belle TES shop. You can save a considerable amount of money by purchasing the Sports Bundle.

Thank you for your purchase. Please consider leaving feedback- it is very gratefully received by me and gives other buyers a clear idea of the value of the resource.
About this resource
Info
Created: Apr 14, 2016
Updated: Feb 22, 2018
Get this resource as part of a bundle and save up to 29%
Other resources by this author
A 30 page resource including: An original French story (written by me)- simple language, beautiful images, repetition of simple structures; Wall wo...
betsybelleteach
PowerPoint to introduce and practise vocabulary for the hotel role plays. Includes nouns with vocab games to consolidate; advanced vocabulary such ...
betsybelleteach
3 resources to practise the role play scenarion 'At the hotel'. Includes a PowerPoint with games, a booklet, a board game and practice role plays w...
betsybelleteach
Popular paid resources
More A level revision quickies here: https://www.tes.com/teaching-resource/23-new-a-level-french-revision-quickies-2016-11244907 For an free online...
gianfrancoconti1966
Powerpoint introducing illnesses in French with lots of games and activities.
CrookedSteeple
An 80-page workbook of role-plays for the new specification French GCSE. There is a foundation and a higher role-play for each topic in the new GCS...
katelanguages
Updated resources
KS2 Level 2 Learn as you teach Primary French series empowering class teachers and teaching assistants to learn and teach French with their childre...
scwebster
Gap-fill exercises to revise using the past, present and future tenses in French. Recaps regular -er, -re and -re verbs and the irregular verbs: av...
labellaroma