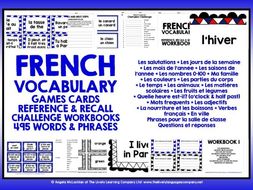 TES PICKS
FRENCH VOCABULARY (1-5) - PRACTICE & REVISION - 495 WORDS & PHRASES
**PERFECT FOR DEVELOPING LANGUAGE SKILLS AND PRACTISING AND REVISING FRENCH VOCABULARY - 495 ESSENTIAL WORDS AND PHRASES FOR BEGINNING FRENCH LEARNERS! **
This pack of games and activities really do help students to develop and embed their beginning FRENCH vocabulary in a cooperative, communicative and interactive way. They're ideal for independent learning, and perfect for pair and small-group work. Students can quiz/test themselves and each other on a regular basis - they're a very popular alternative to more traditional vocabulary 'drilling tasks', and really do help to create a lively language learning environment.
The pack features 495 WORDS AND PHRASES that students are likely to meet in the INTRODUCTORY stages of their FRENCH learning:
Les salutations
Les jours de la semaine
Les mois et les saisons de l'année
Les nombres 0-100
Ma famille
Les animaux
Les matières scolaires
Les fruits et légumes
Les couleurs
Les parties du corps
Le temps
Les pays
Quelle heure est-il? (o'clock/half past)
Les adjectifs
La nourriture et les boissons
Verbes français
En ville
Mots fréquents
Le français pour la salle de classe
Questions et réponses
There are 10 non-editable files in a zipped format:
FRENCH and ENGLISH game cards, with all the words and phrases to use in a variety of games and activities with game card template, which encourages your students to apply their developing knowledge of FRENCH practically and creatively x 5
18-page REFERENCE, RECALL & WRITE workbook x 5, each with 3 differentiated activities:
CHILLOUT CHALLENGE: students write from memory all the words and phrases in ENGLISH from a FRENCH prompt - all the words/phrases are in their language category
CHAMPION CHALLENGE: students write from memory all the words and phrases in FRENCH from an ENGLISH prompt - again, all the words and phrases are in their language category
SUPERCHARGED CHALLENGE: all the words and phrases appear in random order, and switch from FRENCH to ENGLISH at each question
Please read the TERMS carefully - this resource is copyright, and for single-teacher/purchaser use only.
MERCI BEAUCOUP ET BON DIVERTISSEMENT !
About this resource
Info
Created: May 31, 2017
Updated: Mar 16, 2018
Other resources by this author
This collection of PRIMARY FRENCH RESOURCES combines a great set of games and activities to keep your pupils engaged and challenged across the whol...
LivelyLearning
THIS IS A SET OF 48 DIFFERENTIATED QUESTIONS GIVING STUDENTS LOTS OF OPPORTUNITIES TO GET TO GRIPS WITH DAYS, MONTHS, SEASONS AND DATES IN FRENCH -...
LivelyLearning
PERFECT FOR INTRODUCING AND EXPLORING FRANCE - 20 FASCINATING FACTS ABOUT ALL THINGS FRENCH - WITH PRESENTATION / DISCUSSION ACTIVITY & DIFFERE...
LivelyLearning
Popular paid resources
A worksheet to practice clothes, colours and agreements.
kessia
This is a powerpoint introducing pets in French. Once the vocabulary has been introduced play the happy families card game which is included. Simpl...
CrookedSteeple
3/4 lessons leading up to adapting and acting a role-play where students argue about what to watch on TV. Very useful to have imported some pages f...
kessia
Updated resources
Free Flashcards to practise Basic French Sentences. There are 20 pairs of cards that are to be printed, cut out and glued together.
OnlyTheBestOnes
A set of 12 food-and-cooking-themed vocabulary flash-cards for MFL/ESL activities. Set contains 120 unique topical words (in English), divided up i...
DifferentiatedLearning
✮ French months and days bundle - Les jours et les mois ✮ This months and days bundle will help your beginner French students learn the days of the...
jenniferlcrespin