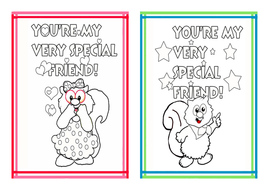 Friendship Valentine Cards
Friendship and Valentine cards to color.
Read more
About this resource
Info
Created: Dec 13, 2011
Updated: Aug 19, 2015
This resource is designed for US teachers. View UK version .
Other resources by this author
A reader and activity book for children about social skills and health. You can either print this up or use it on an interactive whiteboard.
stepctc
Key words: biscuits, cookies, cakes, recipes. A little booklet with Biscuit (cookies) recipes along with a few cakes in the last few pages. Simple ...
stepctc
I am starting a new class so need some new posters to put up and fill in. These are for Word Families. I left these blank as my students are Engish...
stepctc
Popular paid resources
Sock Monkey Soft Toy - Full lesson by lesson scheme of work & lesson powerpoint key stage 3 project The project transforms recycled socks into ...
merk90
Powerpoint showing several photos of Roman shields that I made leading into an activity where children design their own Roman shield based on certa...
dave_orritt
This powerpoint was used to introduce the topic, artist and design inspiration and to guide students through the process of analysis, drawing, logo...
graphicsgeek
Updated resources
This 198-page resource is designed to be used during Reading Workshop and is to be used with Iron Hearted Violet by Kelly Barnhill. It bundles Iron...
erinbrasington
To support stretch and challenge in POP ART KS3 lessons. Task also could be used as a starter. Pop art Drawing Artist Literacy section mini grid dr...
rvevans88
A collection of STEM themed practical based challenges that can be used in STEM/Science clubs or for fun science lessons. Each activity includes a ...
marissa03