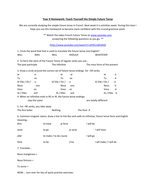 Future tense homework; using youtube.com
After introducing the future tense, use this as a homework. Quite proud of this and quite like it!
About this resource
Info
Created: Feb 8, 2012
Updated: Aug 19, 2015
This resource is designed for US teachers. View UK version .
Other resources by this author
We regularly tell students to revise or learn for homework, but in my experience they do not always know how. In particular, preparation for contro...
Disco_Debs
Adjectives worksheet and Smart file to allow all students to achieve Level 4a writing after watching film Kirikou.
Disco_Debs
Game to build on describing characteristics of friends and family. Maps to Metro 4 Rouge or Vert, Module 2, but also to Expo Rouge / Vert, Module 1...
Disco_Debs
Popular paid resources
PowerPoint and accompanying workpack designed to encourage pupils to use a variety of complex structures in their spoken and written French. An ext...
maryjane1969
This is a lesson I produced for my Lower Sixth to introduce the subjunctive. There is a worksheet to accompany the presentation with a fairly compr...
maryjane1969
Print out the cards and laminate them. Pupils work in pairs or small groups and race against each other to form the perfect tense with the cards af...
maryjane1969
New resources
This resource file contains teaching materials for the THIRD PART of the topic: 'Quelle vie pour les marginalisés?' : 'Quelles attitudes envers les...
laprofdefrancais
Quiz sur Noel : multiple choice exercise on the topic of Christmas
Zoe2007
Powerpoint slides and worksheets introducing and practising language to discuss helping marginalised people in society. There are links to five rel...
lucyday73
Updated resources
Good for common entrance french aurals and other French exams
dur001
This document contains the syllabus perfect for common entrance or GCSE french aurals.
boa001
I read through a lot of Matthieu Kassovitz's interviews and sorted out some of his quotes on different topics (from his aims, to his views on the p...
Esthersaurel