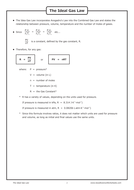 Gas Laws - The Ideal Gas Law
Worksheet explaining theory behind the Ideal Gas Law.
Includes worked examples and several practice problems.

6 pages.

All answers included.

A full preview of this resource is available at:
www.goodscienceworksheets.com/ideal-gas-law-worksheet.shtml

* Also available as part of the complete Gas Laws Bundle - save 40% on individual prices.
Read more