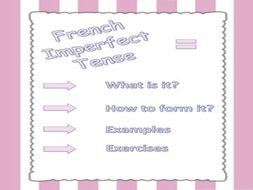 GCSE FRENCH: French Imperfect Tense: Lesson + Exercises - l'Imparfait
This lesson would be great for a flipped classroom. Get your students to watch and learn the lesson for homework, and when they come to the next class you will be able to get right to work using the imparfait with them! Follow this link to watch the video that this lesson has been designed to accompany: http://youtu.be/Zh2TkqWEjiU

Included in this guide is a follow-up exercise that you will understand and master once you've watched the video and read through the guide. All answers as well as the translations are included so that you may check your work. UN GRAND MERCI for having watched the video and for investing yourself in this lesson. À bientôt!
Read more
About this resource
Info
Created: Mar 10, 2017
Updated: Feb 22, 2018
Get this resource as part of a bundle and save up to 25%