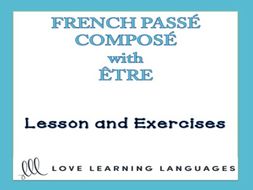 GCSE FRENCH: French Passé Composé with ÊTRE: Lesson + Exercises
This is meant to be a set of exercises to be used after presenting the passé composé with être. For a change of pace (or in case of teacher absence), when introducing the passé composé with être, you could use this set of exercises to reinforce the 20 minute lesson I've recorded on YouTube (it's free: http://www.youtube.com/watch?v=E6-HxU_nIoY). This could make for an excellent interactive homework assignment!

Students will identify which verbs need avoir, and which need être, they'll write the definition of an intransitive verb, they'll list the 17 verbs that use être in the P.C., they'll identify the verbs that sometimes use "être" and other times use "avoir", they'll have to know that reflexive verbs also use "être", and finally they will rewrite ten sentences in the passé composé using être as helping verb.
Read more